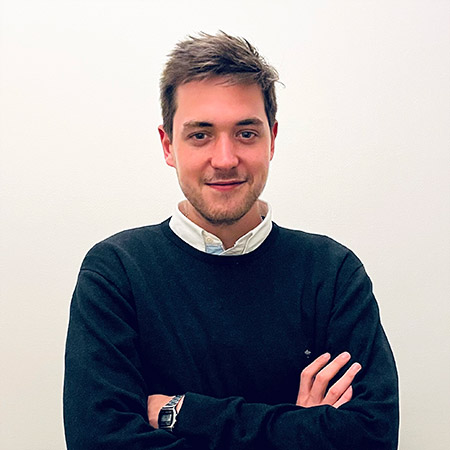 Xander sloot zich aan bij de team in Februari 2022, en is momenteel Digital Business Analyst bij Semetis.
Onmiddelijk na het afronden van het middelbare onderwijs besloot Xander zich in the schrijven voor een Bachelor in Business Administration aan de KU Leuven. De lessen werden exclusief in het Engels op de campus van Brussel gegeven, en dat kwam goed uit voor Xander die de taal onder de knie wou krijgen door in een internationale omgeving te studeren. Hij studeerde uiteindelijk zijn bachelor af in 2018. Onmiddelijk daarna begon hij een Master in Business Administration, met een major in Strategic Marketing Management, opnieuw aan de KUL campus Brussel, waar hij in Augustus 2019 voor afstudeerde. In het kader van persoonlijke projecten volgde hij uiteindelijk nog een 1-jarige certificering in Artist Management en Event Organisation, aan het Institut des Arts de Diffusion in Louvain-La-Neuve, die in juni 2020 eindigde.
Xander ontdekte zijn passie voor digitale marketing en ondernemerschap tijdens de vroege stadia van zijn hoger onderwijs, aangezien het al snel duidelijk werd dat het enthousiasme en interesse buiten zijn studiegebied dreef. Door verschillende projecten, zoals de lancering van een onafhankelijk elektronisch muzieklabel of de organisate van fondsenwervende evenementen als stichtend lid van het Rotaract-team van KUL Campus Brussel, begreep hij redelijk snel het belang en het potentieel van digitale marketing om uw doelgroep te bereiken.
Om zijn marketingkennis toe te passen in een real-life context, werkte Xander 4 maanden als Marketing.& Communicatie Executive trainee bij Out Of Border SRL, een artiestenmanagement agentschap. Naast het ontwerpen van hun social media strategieën, moest hij zich ook richten op de digitale marketingcampagnes van het agentschap en deze optimaliseren. Later werkte Xander ook 1 jaar als Reconciliation Expert Member bij ING België, wat zijn analytisch vermogen naar een hoger niveau tilde. Deze ervaringen brachten hem ertoe te geloven dat zijn functie bij Semetis zonder enige twijfel op zijn buik geschreven was.
Naast zijn werk luistert Xander graag naar muziek en produceert hij deze ook graag zelf. Hij houdt van sporten, vooral van basketbal, tennis of voetbal, en hij wil tijdens zijn leven zoveel mogelijk landen bezoeken. Xander brengt graag tijd door met zijn kamergenoten, die zijn beste vrienden zijn, en wanneer ze thuis zijn, speelt hij graag videogames of kijkt hij graag naar goede films met hen. Als de zon schijnt, kun je Xander gemakkelijk op een terras vinden, om met zijn vrienden een fris pintje te drinken of iets lekkers te eten.
| LinkedIn
Dit E-mail adres wordt beschermd tegen spambots. U moet JavaScript geactiveerd hebben om het te kunnen zien.