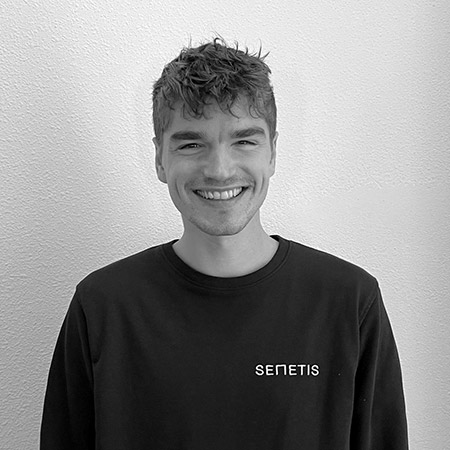 Eloi heeft zich onlangs aangesloten bij Atlas, het nieuwe R&D-team van Semetis in data science en development.
Als Front-end ontwikkelaar zal hij zich richten op het bouwen en uitbreiden van onze reclame- en rapporteringstechnologieën.
Zijn avontuur begon bij een digitaal communicatiebureau waar hij een stevige basis opbouwde in webontwikkeling, design en CRO.
De volgende stap vond plaats bij Media Markt waar hij vier jaar ervaring opdeed als Front-end Developer.
Daar ontdekte hij het echte potentieel van digitale marketing omdat hij verantwoordelijk was voor de webcommunicatie van hun campagnes en de optimalisatie van hun webshop (ontwikkeling, CRO, UX/UI...). Daarnaast heeft hij ook een nevenactiviteit waarbij hij aan verschillende projecten werkt om zijn constante honger naar nieuwe kennis te behouden.
Zijn doel is nu om al die vaardigheden in te zetten in ons Atlas-team en zijn creativiteit te gebruiken om mee oplossingen te ontwikkelen, maar ook om het meeste te leren van de Semetitiaanse experts om hem heen.
Daarnaast, gaat Eloi graag hardlopen of met zijn fiets het bos in als hij frisse neus wilt halen. Wanneer er tijd is voor een langere pauze ontsnapt hij vaak op bikepacking trips of trektochten. Hij houdt ook van koken (vooral eten), doe-het-zelven en natuurlijk genieten van leuke tijden met zijn vrienden en zijn familie.
| LinkedIn
Dit E-mail adres wordt beschermd tegen spambots. U moet JavaScript geactiveerd hebben om het te kunnen zien.