Adform is a global digital media advertising technology company. Adform positions itself as a simple and all in one platform for digital advertising. In the digital jungle of acronyms and platforms we live in, Adform tries to play its card by grouping and simplifying the current way of doing for digital publishers.
To understand the real benefits such a new platform can offer, lets first take a look at the full picture. On one side, we have the advertisers, they have Demand-Side Platforms (DSPs) for bidding on digital ad space on (mobile) websites and apps.
Then comes the owners and providers of those digital ad space called publishers. They have Supply-Side Platforms (SSPs) as they possess the supply of empty ad space that needs to be filled.
After that comes the ad servers. Indeed, every advertisers and publishers have ad servers. The advertisers deal with a multitude of different websites and apps and the publishers have to deal with various advertisers' ads on the website or app they own.
In the relation between the advertisers and the publishers comes the ad exchange. An ad exchange is a digital marketplace allowing the advertisers and publishers to buy and sell advertising space, most of the time in real time (Real Time Bidding).
Last but not least, there are the Data Management Platforms (DMPs). To cut a long story short, DMPS are software that harvests, sorts and houses information about the users and delivers it in a workable way for advertisers and marketers.

Adform brings together everything mentioned above, offering a simplified and complete solution to marketers and advertisers. Indeed, Adform's Programmatic Publisher Ad Server (PPAS) is an ad server that can handle programmatic (read computerized) inventory sales and also execute direct sales that sales people have contracted (private deals). All of this integrated with a Supply Side Platform and a Data Management Platform available directly in Adform's platform.
Moreover, Adform is designed to get the highest rates for ad space. It does so by using a reversed funnel strategy for ad space. The ad space not sold by a publisher in a direct sale will be offered in the programmatic platform. Then, if it is not sold there, it will be offered on a lower quality exchange. The ad space becoming less valuable at each level.
Nevertheless, Adform also has its limits when compared to other similar tools. Indeed, some platforms offer much broader and in depth possibilities for advertisers allowing them to manage different types of advertisement (such as the implementation of Search advertising). Those platforms allow the advertiser to build a complete digital strategy for its clients/brands. Where Adform is limited to the Display advertising.
Rich Media Solution
Additionally, Adform has build a Rich Media "technology trilogy" with brand managers in mind. Adform created an HTML5 creative studio that provides a large panel of creative opportunities. Moreover, you can directly collaborate with clients and get sign-off working on the Creative Agency Workplace. Plus, the built-in publisher compliance will ensure you that all ads created or uploaded comply with the specifications required by the websites on which they will appear.
From standard bannering to video cube, the possibilities offered by the Creative Studio are endless. In the example below, once the user interact with the ad, the publisher site opened elegantly like a door to show the user a video.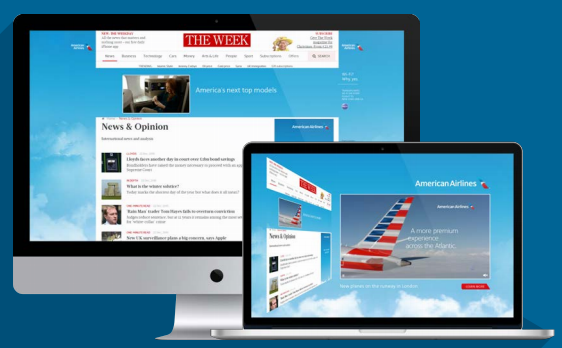 Performances
After conducting a one-month test between AdForm and Doubleclick, we gathered the results and the difference is pretty obvious between the two in terms of performances. For this test we took the same banners (basic banners), invested the exact same amount and targeted the same locations, same languages and same interests. The figures hereunder are the Adforms' figures compared to the one of Doubleclick.
Here is an overview of the results:
When we look at the first results, there is no comparison possible between Adform and Doubleclick regarding every metrics such as reach, engagement and costs. Even if the comparison here is not possible considering the differences in results, we looked a bit deeper at the quality that both platforms brought to concerned website. There we saw that Adform was not performing as well as it did in terms of engagement and costs.
Here is the comparison between the two platforms in terms of traffic quality:

On a traffic quality level, we notice the opposite trend as for the first performances here above. Even though Adform bring a lot of traffic to your website, the quality of this traffic is much worst than via Doubleclick we took for the test. The bounce rate of 90% means that only one person out of ten interact with your website. For the other platform, one person out of three interact. Moreover, once they interact, they prove to spent more time one the website and view more pages when they came from Doubeclick.
What's in it for you?
AdForm is a great all-in one platform and easy to use in the digital jungle of tools and platforms. Indeed, Adform regroups DSPs, SSPs and DMPs together. Moreover, Adform has a Rich Media Studio that is a real added value to the product, enabling advertisers and creative agencies to create unique creative and facilitating the workload and communication.
On a performance level, Adform has very good results in terms of reach, engagement and costs. On the other hand, the quality of the traffic brought by Adform was proven to be of a bad quality during our test. Of course our test was made with a very limited budget and those conclusions should not be considered as final.
Adform offers some great opportunities and results that are definitely worth the try, even if the traffic quality is underperforming, this can always be optimized to reach both your goals in terms of awareness and traffic on your site.
Author: Grégoire le Hardy
Tags: