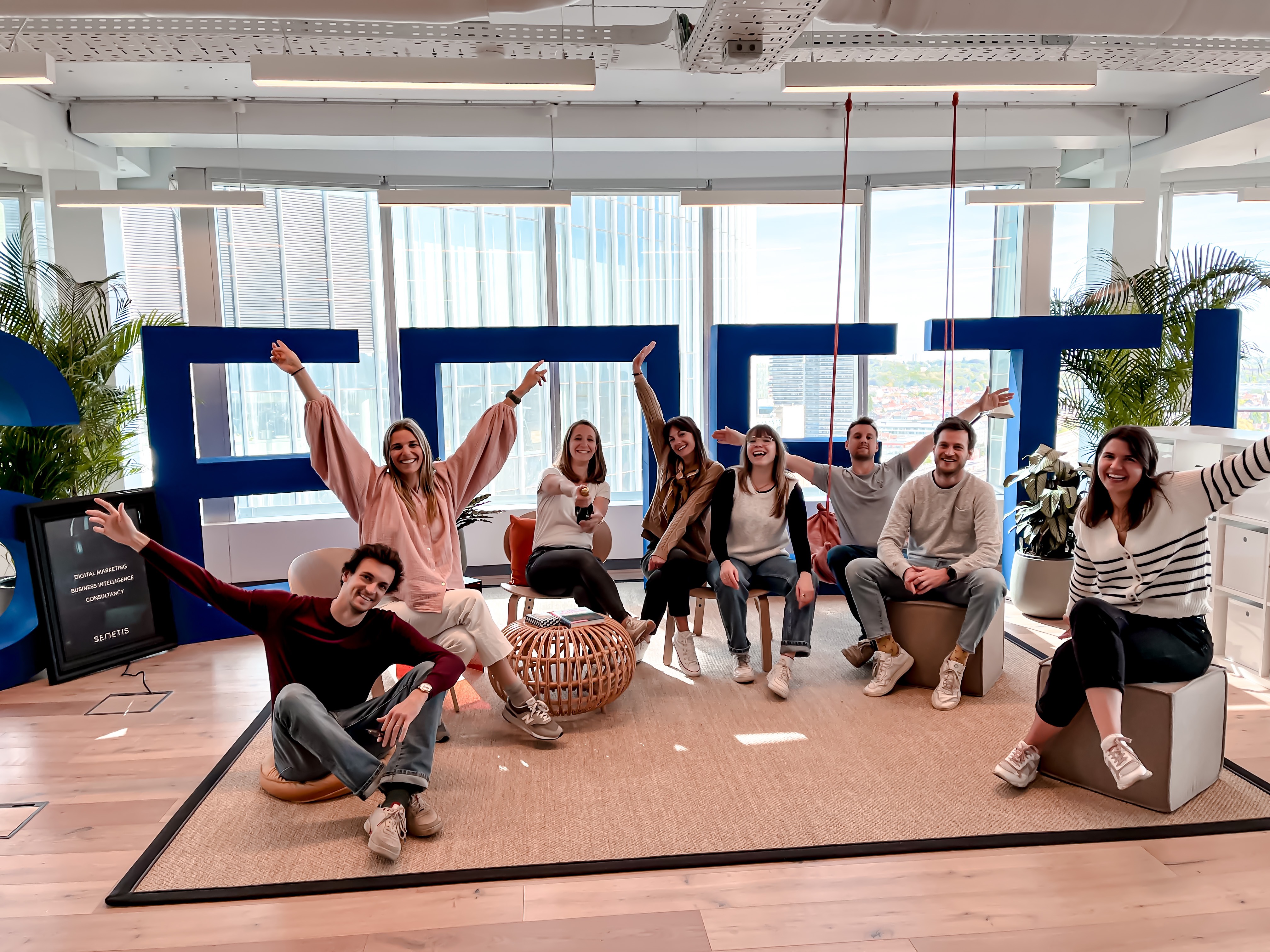 Working in the leading digital marketing agency
Semetis was born in Brussels in March 2009, created by two Googlers Gabriel Goldberg and Nicolas Debray. Their vision was to build the best in-class data-driven marketing agency, by understanding the evolution of technology and putting data at the centre of everything to better serve the advertiser. Today Semetis is the Belgian leading digital media agency.
This important position on the digital market chessboard offers many opportunities for those walking through the doors of our office. As eBusiness Analyst or Junior Digital Marketeer, you will take part in campaign creation for a wide range of clients. You will have a client's portfolio that comes from a lot of different industries and ranges from start-up to big advertisers and renowned companies. This allows you to learn how to master different advertising campaigns depending on the client's needs and discover different ways of working.
In your job, you will plan, manage, optimise and analyse digital advertising campaigns on a variety of advertising platforms (Google, Facebook, LinkedIn, TikTok, Youtube, Spotify, Instagram, Snapchat, Waze …). You will take care of proposing new features and of course, advising your clients on new market trends, services and any other digital opportunities. No day is like another!
"Semetis clearly changed my life, today it gave me the opportunity to meet amazing people and among those, the three co-founders with whom I created my company. So I'm very thankful for everything that Semetis offered me." - Julien De Visscher, Semetis Alumni.
Arriving as a Newmetis
When you arrive at Semetis, you will be welcomed by your team manager and also by a person who will be your "shepherd star": your Buddy. The role of the buddy was created to provide you with general information, to introduce you to the company culture and to facilitate your integration into the team. Your buddy is usually part of your work team, so they will be able to guide you through your Semetis journey.
"I already knew that the team was very young with vibrant talents, and I knew this was going to be a nice team that I would fit in. I spoke to almost everyone within the first week and they were very welcoming, everyone really tries to help you along. If you have a question, you can literally ask anyone. It is really easy to feel integrated into the group, and personally, I felt 100% welcome." - Lynn Luyckx, eBusiness Analyst.
On your first day, you'll receive a "Welcome package" composed of your new work laptop and some great branded goodies to adopt the SEMETIS swag from day 1. You will then be able to represent your company everywhere just by carrying your laptop or sipping your coffee!
At Semetis, we really like to work all together so we created a big cosy and welcoming open space in our office. The idea behind the "free desk policy" is to encourage collaboration and facilitate the introduction between the Semetissians, across teams and roles. In addition, it allows you to move places depending on the work you have to do: you can start your day on a desk close to your colleagues, go on our big organic table for a meeting and finish it on a swing to read your emails. To offer even more possibilities for those movements during the day, we have recently moved into a WeWork coworking space that is more reflective of our team spirit and our growth.
Joining a Digital Business Program
Many of the Semetissians, as well as the Semetis alumni will tell you: Semetis is the business school when it comes to digital marketing. While you are at Semetis, you will learn everyday how to do your job but also how to push your own boundaries to grow yourself as a professional and as an individual.
In your first weeks, you will attend- with other Newmetis - "bootcamp" sessions on various subjects: emails best practices, Google Ads basics, time & crisis management, etc. Bootcamps are intensive training sessions that have been designed and created by Semetissians for Semetissians. In parallel, you will be hunting for "shadow" sessions, a moment when you will join a colleague at their desk and watch them do a task. You will then also experiment reverse shadows: this time you are the one performing a task while a colleague is sitting next to you and providing you feedback on the spot: an amazing way to grow your skills in a record time.
Sharing knowledge is a key pillar in our company: we regularly organise what we call "Internal Knowledge" sessions where members share their expertise on a specific topic to the rest of the team but also "Lunch & Learn" where we invite external speakers to share their knowledge and broaden our comprehension of the digital and media industry.
Becoming a Semetissian

Something that is really part of our team culture is the numerous events and team buildings that will punctuate your Semetis' life. On top of afterworks, aperos and other gatherings, the event team organises three main events: a three-day trip abroad, a summer team building event and a Christmas dinner. These activities are major milestones in every Semetissian's journey:
The Semetis Trip, that is usually held in March, is the occasion to focus on two main objectives: get to know each other and reflect on Semetis' future, strategy and vision.
Over the summer we all take part in a big team-building activity: it can be something adventurous, sporty, creative, any activity that brings everyone together and creates a strong team spirit.
Finally, the Christmas dinner celebrates Christmas, obviously, but also the people: it is a way to thank everyone's involvement and mark the end of the year all together. During that night, we take the time to do a Secret Santa and vote for our next destination for the Semetis Trip!
At Semetis, we strongly believe that our members are ambassadors of our brand values and are standing for them in their day-to-day job. These values are the compass that guides our brand story, actions, behaviours, and decision-making process. Semetis has four important pillars: growth, to give everyone the opportunity to develop while reaching their full potential, both personally and as a team, exploration, to bring business growth to our clients and drive innovation in a suitable and sustainable fashion, energy, to energise, engage and inspire our colleagues and our clients, involvement, to embrace challenges, feel responsible and take ownership of projects.
"I believe that you should really have for yourself a clear direction of your own path and you should not be afraid to express it. Your environment will support you and before you know it, you will have a red carpet right in front of you that you can just walk on and success will just come your way. For me, Semetis is really about jumping off the cliff and learning how to fly on your way down." - Dhan Claes, Managing Director.
2022 is the people's year at Semetis: we are doing everything that is in our power to put the accent on the Semetissians. And part of this process is to recruit new colleagues to reinforce our ranks and build an even stronger agency. If you feel that this could be you, don't hesitate to look at this website and apply as of today. We are very impatient to meet you!
---
Tags: