As TikTok is still considered a newcomer in our media landscape, many advertisers don't have the experience in properly optimizing their TikTok campaigns. Campaign optimizations will improve your overall performance and boost your ROI.

In this article, you'll find 9 ways to optimize your (existing or future) campaigns through best practices in campaign settings, creatives, target audiences, and more.
1. If you only have an ad in the official language of the country, don't add language restrictions
This is because your target audience may not have their TikTok app in the official language of the country you want to run your ad in. By adding a language targeting, you reduce your audience to the people who have their TikTok in this particular language. Indeed, some people living in France and speaking French might have their TikTok in English or their native language for personal reasons.
However, if you are advertising in a country with several official languages, we advise you to define linguistic targeting to show the right ad to the right audience.
2. Best budgeting practices
When setting up your campaign you can either set your budget at campaign level or at ad group level.Tiktok advises placing your budget at ad group level rather than campaign level to help the system build a more stable model which will improve the performance of your campaigns.
3. Change your creatives regularly
Like many social media platforms such as Facebook/Instagram, it's vital to change your campaign's creative after a certain period of time to avoid ad fatigue. When your audience is exposed to too much of the same ad, they eventually lose interest because the message becomes too ordinary. To avoid ad fatigue it is advised to change your creatives at least every 7 days (but this will strongly depend on budget invested).
4. Rotate different creatives
It is advised to provide the campaigns with several creatives and wordings. These variations will help you optimize the results of your advertising campaign. Indeed, by providing different assets into your campaign, you give the algorithm the possibility to first rotate the different ads to then evaluate their performances in order to push the ones showing the best results according to your campaign objective. If you have at least 10 creatives, you can use Tiktok's automated creatives optimization. This system will automatically create different variations of ads based on your assets and will try to find the optimal combinations to be advertised by AB testing them.
5. Activate the "Only mode" and the "community interactions"
In case you want to grow your TikTok community and develop their interactions with your brand, you can use spark ads and boost your organic content posts to redirect the audience to your profile. When doing so, you can choose to activate/deactivate the "TikTok Ads only mode". If activated, the selected ad will only appear in TikTok ads and will not appear on the feed.
Campaigns settings

6. Don't make ads Make TikToks
Tiktok is a platform that encourages authenticity, creativity, and self-expression and allows people to be themselves without fearing being judged. Tiktok users use and watch the platform to discover things, to be inspired, and be entertained. Therefore, it is important for brands to adapt their content, especially their ads to the platform to capture their audience's interest. To do so, it advises to:
Create short, engaging content to capture your audience's attention.
Shoot in high resolution and stick to a 9:16 vertical ratio to boost your performance and avoid videos that are not formatted for the screen.
Use CTAs to entice your audience to convert.
7. Leverage the power of silent videos
While it's important to use sound in your videos to capture your audience's attention by playing music, sound effects, or an explanatory voice, aim to create videos that can also be watched silently. In fact, you will have 14% less abandonment rate by broadcasting ads that can be watched silently (TikTok, 2022).
Therefore, we suggest adding subtitles to your videos to make them accessible to all. To do so, you can use Tiktok's closed captions which will scan your audio and write captions on your videos.
8. Take advantage of TikTok's interactive add-ons to boost your performance
When you run ads, you can add stickers, polls, countdowns, or other features to capture the audience's attention and attract users to your website, which will improve your performance. More information about interactive add-ons here.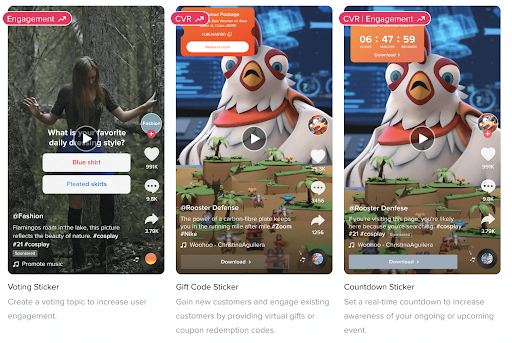 9. Enable the "Advanced matching" button on your pixel
This allows businesses to send secure customer information to better match website and app events with ads on TikTok.
Using the button Advanced Matching will allow you to:
Expand your audience to reach a wider audience.
Optimize your campaign by using bidding models to amplify conversion events.
Being still new, TikTok evolved a lot in a short period of time. We anticipate that the platform will keep on growing and evolving. We believe that TikTok Ads Manager is a good tool in a company's marketing strategy as it leverages pretty well the power of video marketing and offers a wide range of solutions depending on the marketing objectives, settings, and creative customizations. Plus, it offers brands the opportunity to act like any other users. If you have any questions or need any kind of support on your campaigns, please do not hesitate to reach out to Semetis.
---
Tags: