Traditionally, football clubs have focused their marketing efforts on sponsorships and ticket sales. However, recent years have seen a shift towards merchandising sales, albeit mostly targeted towards existing fan bases through pull channels such as search, shopping, and remarketing. By utilising a national TV spot, Club Brugge broke new ground and demonstrated the potential of push channels to reach untapped audiences. This unique strategy offers valuable insights for future football club marketing campaigns.
Challenges in football merchandising: Navigating the impact of the World Cup, inflation and privacy regulations
In recent years, football clubs have been exploring new avenues to generate revenue outside of their traditional sources like sports sponsorships, media rights, and ticket sales. One such source of income that has been gaining popularity is merchandise sales. By selling merchandise like jerseys, hats, and scarves, clubs can not only generate revenue but also create a deeper connection with their fans. However, the merchandising sector has its unique retail environment, and football clubs need guidance when entering it.
For Club Brugge, a Belgian football club, building a sustainable advertising strategy to boost their online merchandise sales was key for their digital strategy. However, the last years presented several challenges for the club. Firstly, the COVID-19 pandemic had a long-lasting impact on the business model of football clubs, driving them to focus more on digitalization and enhancing the fan experience. More specifically, in 2022, Club Brugge faced three significant challenges in their digital strategy.
Firstly, the World Cup held in Qatar had a significant impact on the communication strategy of any football club. With 64 games crammed into the regular football season and a month-long period where fixtures could not be planned, this led to a significant loss of ticket sales and sponsorship visibility. For Club Brugge, the introduction of the World Cup and the lack of fixtures that followed meant a loss of top-of-mind awareness for their merchandise sales. Additionally, the planning of the World Cup during the end-of-year period meant that one of the most important periods for Club Brugge was overshadowed by the world's largest sporting event. Knowing that the year before, in 2021, the last two months of the year accounted for more than one-third of the total online revenue on the merchandise store of Club Brugge. You can only imagine how big the World Cup impact was on the 2022 online revenue total.
Secondly, the total inflation in Belgium amounted to more than 10%. As a result, the price of goods, including football merchandise, went up. This led consumers to cut their spending on nonessential items like entertainment and luxury goods, which created a significant challenge for Club Brugge.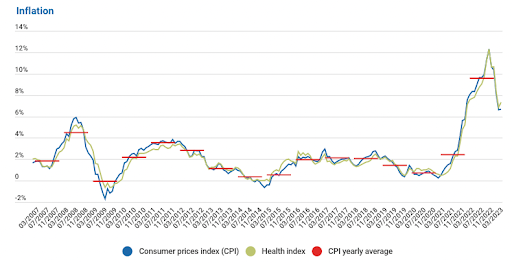 Lastly, recent privacy regulations like GDPR, as well as technical implications such ATP and ITP, have threatened the backbone of digital advertising: audience targeting. For Club Brugge, this decline in cookie usage has made it increasingly challenging to connect with new prospects. The audience of a football club is very specific, and thus requires advanced technical targeting techniques to reach the right people. With these techniques becoming less and less available, it is essential to incorporate the right communication into marketing channels to reach the right audience.
Reaching untapped audiences through Digital TV
When tasked with a challenge by Club Brugge, we had to answer two questions: how to generate top-of-mind awareness during a period when fixtures are absent and fans are be drawn to a larger sporting event, and how to communicate a message that appeals to an untapped audience through a channel that represents our fanbase.
Over the past few years, digital and connected TV has become increasingly popular due to its wide reach and accessibility to a vast audience with a TV and digital receiver. This enables advertisers to communicate their marketing message to a broad audience, while being able to target specific demographics, geographic regions, and interests. This channel was answering our questions.
Club Brugge's end-of-year campaign was the first time that any football club in Belgium had used a national TV network to broadcast its marketing message. Traditionally, advertising for football club merchandising has been done via pull marketing, using search, shopping, or Remarketing ads to identify users who are or have previously shown an interest in the club. For this campaign, Club Brugge moved the needle by using a push message to reach potential customers all over Flanders, thereby increasing top-of-mind awareness.
How the bold marketing move paid off
During the campaign, it was clear that the strategy of Club Brugge was being noticed. Posts on social media like LinkedIn made it clear that marketing managers were openly questioning whether the strategy was smart, given the emotional bond with a football club.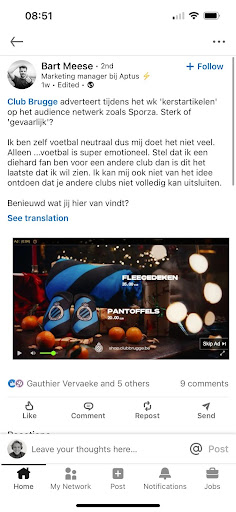 Despite initial scepticism from some marketing managers, the campaign was successful in not only increasing website traffic but also influencing public opinion. The campaign resulted in a remarkable 78% increase in website traffic during the campaign period compared to the previous year, with direct traffic accounting for a significant part of the increase: we generated 113% more direct traffic to the website than the year before. This success is particularly noteworthy as it was achieved during a time when the club had no fixtures and limited press coverage.
---
Tags: