The popularity and importance of video has been increasing a lot over the past years, which made it an essential part of the modern-day digital society. As video is a powerful storyteller that easily unlocks users engagement, a vast majority of businesses now incorporate videos in their marketing strategies.
Given the popularity of video, Google tries to display them on SERPs whenever possible for certain informational or educational queries. For example, questions that start with 'What' or 'How to' will frequently be shown on the SERP. However, most websites can rank in the video tab, but it is harder to get ranked in universal search with a video.
We can predict this trend will only continue to grow, and video will play an even more important role, not only for the user but as a consequence also for Google. Hence, it will be very important to build a solid video SEO strategy to get your videos ranked on the SERPs.
1. Create engaging video content
To create engaging video content, you should first outline your video strategy. Where, when and how will your video be used, and what is its purpose? When you know who will be watching, what you want to accomplish and where it will be seen, you can customize it to fit the platform and your targeted audience. Finally, you can reflect on the actions you want your customer to take after viewing the video, and translate this into a relevant call-to-action.
A great way to increase the credibility of your video is to include client testimonials. These real-life stories, if outlined and scripted appropriately, can build authentic credibility for your brand. Furthermore, truly authentic video content relies on two things: quality and consistency. Without quality, you lose engagement from viewers who have come to expect high-quality content. Without consistency, you can't create a long-term relationship with your audience. If you have both of those things, the engagement will follow as long as you're providing valuable content your audience wants to consume. Finally, it's important to keep the human factor.

2. Create compelling thumbnails
A video thumbnail is a still image that represents your video. It's what your potential viewers will see first on various platforms, including YouTube, Facebook, the Google search results and also your own website. Based upon this thumbnail, users will decide whether to watch your video or not. Therefore, it is important to have a compelling and qualitative thumbnail. This thumbnail should convey the core message of your video in a clear but attractive way.
3. Video hosting
Video hosting is the practice that allows you to upload and store videos on your own website (self-hosting) or on a third-party website such as YouTube or Vimeo (third-party hosting). Both methods of hosting your video have their own advantages and disadvantages.
Self-hosting the video on your website makes it easier to get links to your website rather than other websites linking to your video on YouTube, for example. Moreover, from a technical point of view, it is easier to get rich snippets on SERPs when you self host your video. Finally, when the video is hosted on your own website, the media player is highly customizable, and can be displayed in a higher resolution. The main disadvantage of self hosting your video, is that it might have a lower reach as a lot of video searches happen directly on video hosting platforms such as YouTube or Vimeo.
The big advantage of third-party hosting is the bigger reach, as most of the video queries happen on these video hosting platforms such as Vimeo or Youtube. In fact, Youtube is the second largest search engine behind Google. Moreover, it is very easy to set-up a profile on these platforms and it is fast. Moreover, there is no need to take into account the extra bandwidth that is needed when you self-host your videos. The blocking point of using third-party hosting is then the cannibalization of most of the traffic to your own website, since most people watching a video on Youtube, will also stay there.
4. On page video SEO optimizations
On-page video SEO is the strategy to make sure that your page that contains the video gets ranked on search engines pages and relevant keyword queries. In short, it is the process of getting free, organic traffic through search engines to watch your videos. With video becoming a more important part of marketing over the years, and many companies worldwide implementing it on their website, it has become harder to get a good ranking in search results. However, there are some technical tips that are easy to implement to improve the likelihood of your on-page video popping up higher in the search results.
First, there are the meta title tags. These are the titles that are visible on the top of your browser in the tabs, but they are also displayed as the blue link searchers click on search engines. Enough reasons to make sure that your title tag is as relevant as possible. Therefore, it is recommended to put your most important keywords at first, and to not make it longer than 70 characters (after, titles get truncated). The title of the video should be the main headline of the video and formatted as an H1 tag.
Next, you also have to take care of the meta descriptions, which describe what your video is about. While it is not directly taken into account by the search engines' ranking systems, it is nonetheless an important element of metadata, since it ensures a higher click-through rate. Meta descriptions should be no longer than 155 characters, and should function to convince the searcher to watch your video.
Besides the title and the description, the URL also plays an important role. It is recommended to keep them short and descriptive. Short, because there is a high correlation between the number of characters your URL contains, and your ranking on search engines. Descriptive, because searchers are more likely to click through on a URL when the URL matches their search query. Therefore, it is recommended that your URL includes your target keywords.
Finally, subtitles are crucial. Search engines are not able to watch a video. To understand what the video is about, they 'crawl' the text associated with it. There are many ways to add text to improve your video for search engine results, and one of them is subtitles. In addition, subtitles deepen the keyword coverage of your video. Your content can then appear on keywords that don't appear in tags or titles, but do in subtitles.
5. Structured data and rich snippets
Another way to give more context and information to Google is by using structured data, which is a standardized piece of code that provides more information about a page and classifies the content on the page. By implementing this structured data, Search engines are able to understand better the content of your page and they then use this to display search results in a specific and much richer way.
When structured data markup is added correctly to the existing site HTML, rich snippets can be implemented. Rich snippets are a way to expand your snippet with extra information like an image, ratings etc. Rich snippets for video can be used to drive a higher click through rate by adding a description, a title, thumbnail images and URLs and a duration.
Rich snippets are a way to stand out from the crowd. They are more eye-catching than normal snippets and tend to drive a higher click-through-rate. By implementing rich snippets, you'll drive more traffic towards your site. Not because of your position that changed, but because more people tend to click on your snippet. In the long run, search engines notice that searchers prefer your page above the other, and your ranking will improve.
Furthermore, rich results from videos can appear as a featured snippet, which can be seen as an upgrade of rich snippets. Featured snippets have the same characteristics as rich snippets. The only difference is that featured snippets get shown at the top of a SERP.
Thus, a rich snippet is an enhanced organic search result, while featured snippets are a direct answer to a search query that gets shown at position zero. Keep in mind that it's not up to you to appear as a featured snippet, but that the search engines themselves decide whether to show a featured snippet, depending on relevancy to the search query. Featured snippets are most likely to show up in search queries containing questions like "What" or "How to".
An example of a featured snippet and rich snippet: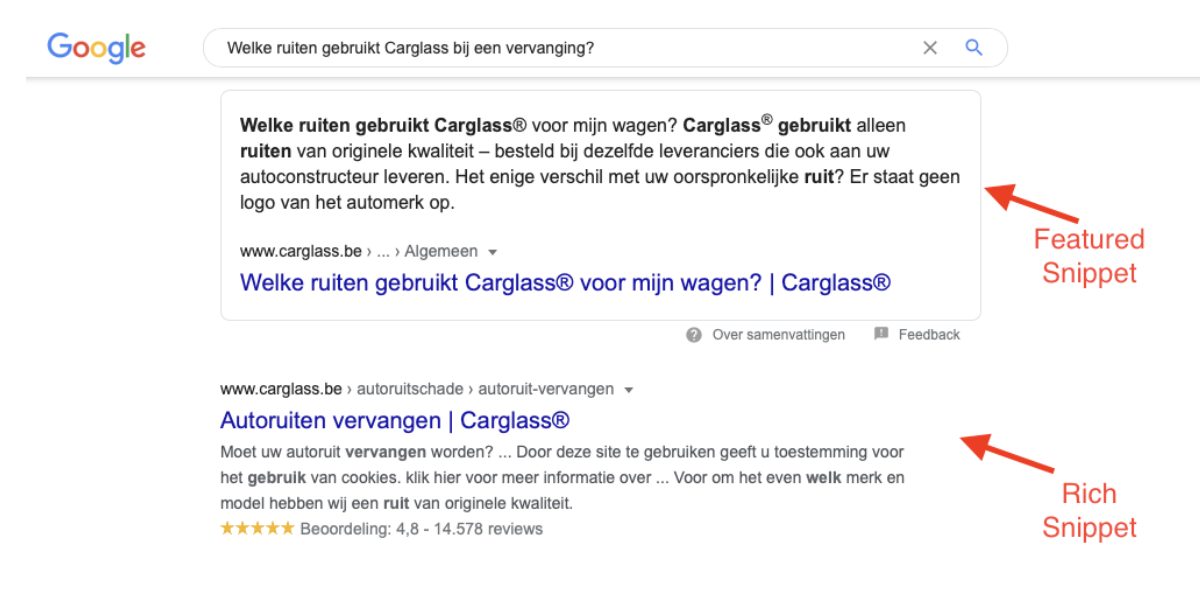 On Google, your video can be shown as a featured snippet by marking up your video with VideoObject. Videos with a VideoObject can appear in Google Search results, video search results, Google Images, and Google Discover.
There are two types of properties in VideoObject: required and recommended properties. If you don't include the required properties, Google may not be able to extract any information about the video. Recommended properties are used to add more information about your content, which could provide a better user experience.
Required properties
Recommended properties

6. XML Video sitemaps
In general, if you have a website, it's highly recommended that you have a sitemap, which is a structured file that summarises your site hierarchy on page, content and multimedia level. Sitemaps will be important for SEO as they can be easily interpreted by a search engine's automated crawling robot, helping them to determine the theme of your website and eliminating any crawling errors. Sitemaps ensure all your web content is scanned and the structure of your site is fully and accurately represented.
To further optimize your Video SEO it is best to have a separate additional video sitemap. Creating this video sitemap, is an excellent way to help Google find and understand the video content on your site, especially content that was recently added or that might not otherwise be discovered with the usual crawling mechanisms.
Video sitemaps contain metadata about each video you have on your site, helping Google to accurately present these videos in search results. The data you place into the video sitemap must match the actual content of the video for Google to use it. Video sitemap metadata includes things like the length of the video, a title and a short description of the video content.
Example of a video xml sitemap: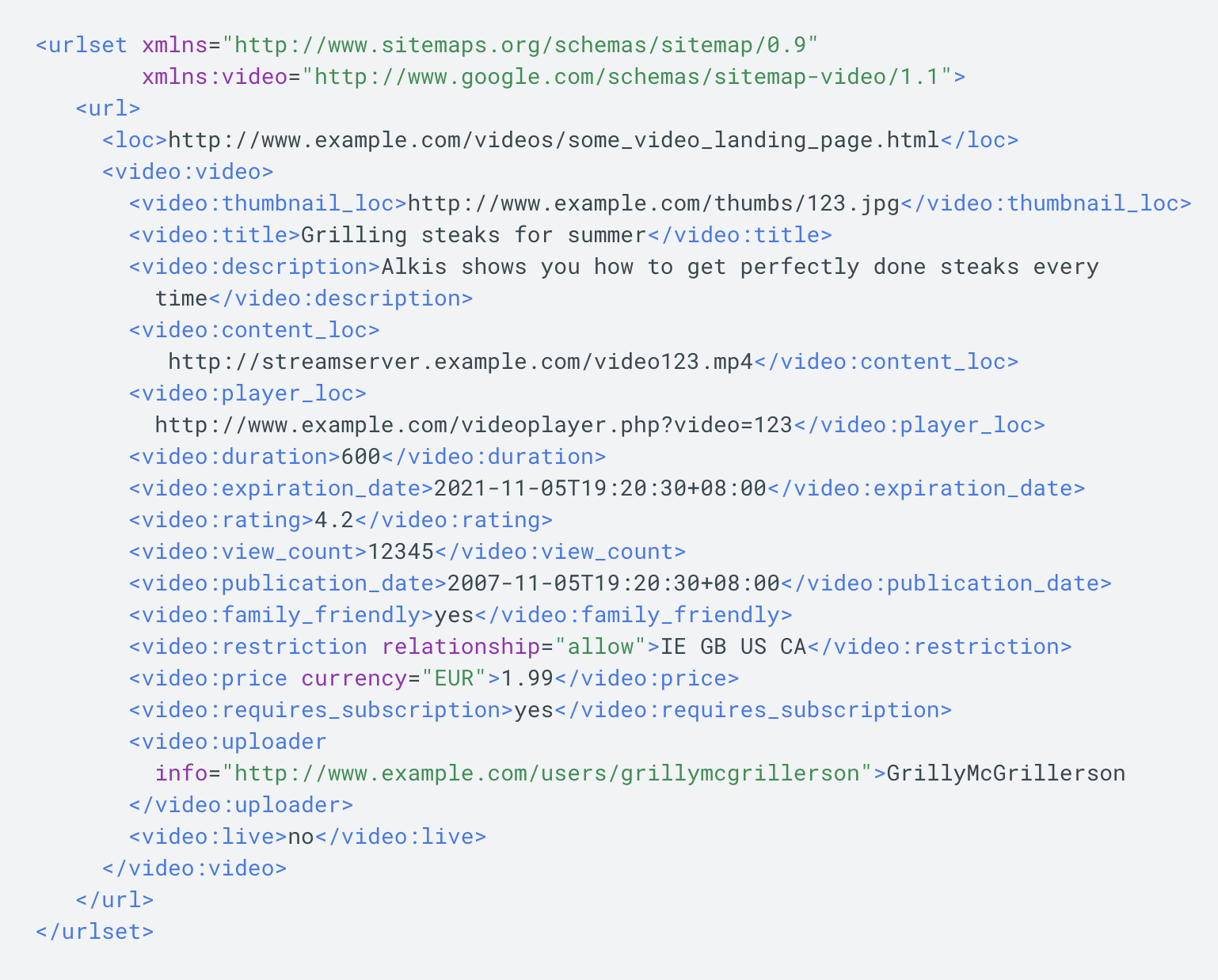 Conclusion
It is clear that Video is a very important part of modern-digital society and that it will only gain importance in the future. However, it will not be that easy to get your videos ranked on the SERPs. Therefore, you will need to work out a solid video SEO strategy. First, you'll need to take care of your video content and come up with engaging content that catches the attention of the users. Besides the content, you will also have to think about your video hosting strategy, work on your on page video SEO optimizations, implement structured data and create a XML video sitemap in order to increase the chances of getting your video ranked on the SERPs.
---
Tags: