Digital advertising has always been evolving and it continues to do so. Performance Max, the latest campaign type released by Google is one of these examples. If you haven't explored this campaign type yet, we strongly recommend testing it out for your own venture.
This article explores the future and vision of Performance Max campaigns, highlighting the transformative power of AI in driving advertising success.
So what is Google preserving for the future? There are three key pillars on which Google is working to improve the Performance Max campaigns: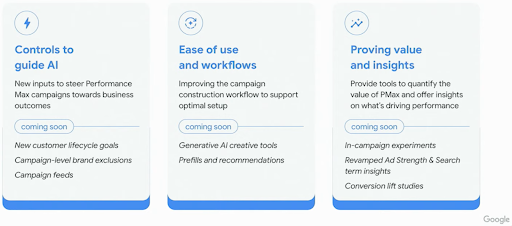 1. Empowering AI with Enhanced Controls
To achieve desired campaign results, providing the right data and inputs to AI is crucial. Google acknowledges this necessity and constantly strives to enhance Performance Max campaigns. By sharing your goals and business objectives in the campaign settings, you already enable machine learning to learn and adapt. Also tools like new customer acquisition gives the ability to guide the performances in the right direction.
However, it takes more than that to get successful campaign results. This year, Google will develop a tool called "New customer acquisition with high-value optimization", a feature to optimise campaigns toward potential customers predicted to have a high lifetime value. This will be done by providing Google Ads First party data.
2. Streamlining Workflows for Enhanced Ease of Use
Performance Max campaigns are cross-channel endeavors that require a diverse range of assets, such as vertical video formats and various image ratios. Adhering to best practices for pMax campaigns can be demanding, but Google is stepping in to ease the burden. Generative AI comes into play, simplifying the creation of additional assets necessary for campaigns.
With the "Revamped asset creation flow", advertisers can provide minimal inputs while AI generates new creatives (copy and visuals) that align with the brand's identity. Advertisers retain control over which creatives are used in the campaign.
Moreover, by utilising page feeds, advertisers will be able to provide insightful information to AI, directing traffic to specific URLs without resorting to URL expansion if they don't feel comfortable using this last one.
3. Demonstrating Value and Providing Insights:
As Performance Max becomes an essential campaign type for advertisers, Google emphasises the need to showcase its value. Understanding the challenges faced by marketers, Google aims to improve the granularity of reporting and insights derived from pMax campaigns.
For example, search term insights allow advertisers to gain valuable information and soon the ability to apply date ranges and export data will be offered. Retailers will benefit from enhanced product insights, which provide valuable information on issues types, and category insights, facilitating feed and campaign optimization in one place.
Finally, Google plans to launch the pMax customer experiment in late 2023, allowing marketers to A/B test different strategies, assets, and more.
The future of digital advertising lies in the continued evolution of campaign types like Performance Max, driven by the advancements in AI technology. Google's commitment to enhancing controls, streamlining workflows, and providing valuable insights underscores its dedication to delivering success to advertisers. By embracing Performance Max campaigns, businesses can tap into the full potential of AI-driven advertising and pave the way for unprecedented growth in the digital landscape. So, don't hesitate to embark on this journey and unlock the endless possibilities it holds for your business.
---
Tags: