Performance marketing is all about seizing the opportunities when they present themselves
Research indicates that a surprising 44% of advertisers are not utilizing their existing data to enhance business outcomes, while a staggering 80% are not tapping into the full potential of their data. Despite possessing a vast amount of data, advertisers often struggle to implement the proper processes to capitalize on all available business opportunities. This is exactly the challenge Ardennes-étape and Semetis were able to successfully overcome.
Looking for an unforgettable getaway in the Ardennes? Ardennes-étape is THE go-to website for curating a unique stay at a holiday home in the Ardennes. Whether you're seeking adventure or relaxation, it is Ardennes-Etapes' mission to connect people with the best of what the Ardennes has to offer. They do this by uniting houses of local homeowners with vacationers.
However, these houses are not solely limited to the Ardennes-étape website, as they are also available through competitors such as booking.com, airbnb.com, belvilla.be, etc. that also have a contract with the owners. Therefore, when a property is booked on a rival website, there are two direct ramifications: first, an opportunity was lost because the booking was not made with Ardennes-étape, and second, the house is no longer available for booking at that time on the Ardennes-étape website. Therefore, it is essential to seize chances as soon as they present themselves.
Building a customized automated decision tree to make sure we are not missing out
These market dynamics require swift action which was not always possible in the past. To better understand why opportunities were missed, we dove into historical data of the digital performance campaigns. It became evident that missed opportunities resulted from a lack of flexibility in those moments. Identification of such moments brought forth several roadblocks, namely :
Budget constraints. Fixed budgets allocated on a weekly or monthly basis led to overinvestment during calm periods and underinvestment during peak moments.
Ambiguity regarding max/target CPA. In the absence of a clearly defined maximum cost per acquisition (CPA), it is impossible to determine the level of investment that can be undertaken without compromising profitability.
Inadequate insight into critical factors influencing business, such as stock levels, competition, and demand, which directly impact the available opportunities and influence the desired course of action.
To overcome these roadblocks, it required a solution that could provide increased flexibility to manage the digital advertising campaigns in a direct response to opportunities when they present themselves. However, it could not come at the expense of increased workload. We want to achieve this it without micro-managing budgets. Thus, the ultimate objectives were set to reduce missed opportunities by 15% while reducing the amount of interferences needed to take these day-to-day decisions by 12%. This challenge was tackled by the development of a tool named "the decision tree". An important requirement to make this successful is an advertiser to know and fully leverage business results. Luckily, Ardennes-étape was on top of things and the CEO, CFO and CMO were involved in the process to make sure all information was available.
This decision tree consists of various scenarios that we could encounter during the day to day management of digital campaigns. These scenarios are based on essential business components such as:
Objectives: Every scenario starts with the question whether we have attained the objectives that were put or not.
Demand: Although there exists a minimum level of seasonality in demand for vacation rental houses in the Ardennes, for instance during school holidays, Christmas, and summer. However the precise moment of booking can fluctuate considerably. Thus, it is imperativeto closely monitor demand to evaluate potential opportunities in the market.
Target CPA: Defining the target CPA is crucial to define the action that needs to be taken. Target CPA and thus the required action can be adapted according to demand, available budget, etc..
Competition & Market Share: As previously stated, the competition is intense and exerts a dual effect on Ardennes-étape's performance. When competition is strong additional measures are necessary to ensure competitiveness and capitalize on as many opportunities as possible through our digital advertising campaigns.
Stock levels: In case stock levels for the coming periods are limited we should be careful about overinvesting given that we expect less bookings to be possible in this period. When on the other hand we notice a lot of houses are available in the coming period, we can afford to push advertising budgets stronger trying to capture all opportunities.
These insights are not readily available in our advertising platforms. It is clear, we needed to pull and combine data from various data sources to build the decision tree. Data was gathered from the following sources:
CRM: In order to assure accuracy of our KPI, bookings are reported directly from the CRM. The data is made available via a PowerBI dashboard.
Website: From the website we can have a direct view on the stock levels. How many houses are still available, for which period and which type of houses.
Advertising Platforms: It is clear advertising platforms play a key role and are closely monitored to pull auction insights to map the competitor landscape. Next to that they give us a first indication on the level of demand in the market.
Semrush: In order to complete the mapping of competitors Semrush is used to provide additional information on competitors such as their website traffic, paid advertising efforts, etc.
Google Trends: Finally, Google Trends is used to create a more holistic view on dynamics in the market.
Next, the decision tree tells you in an automated way, exactly what action to be taken.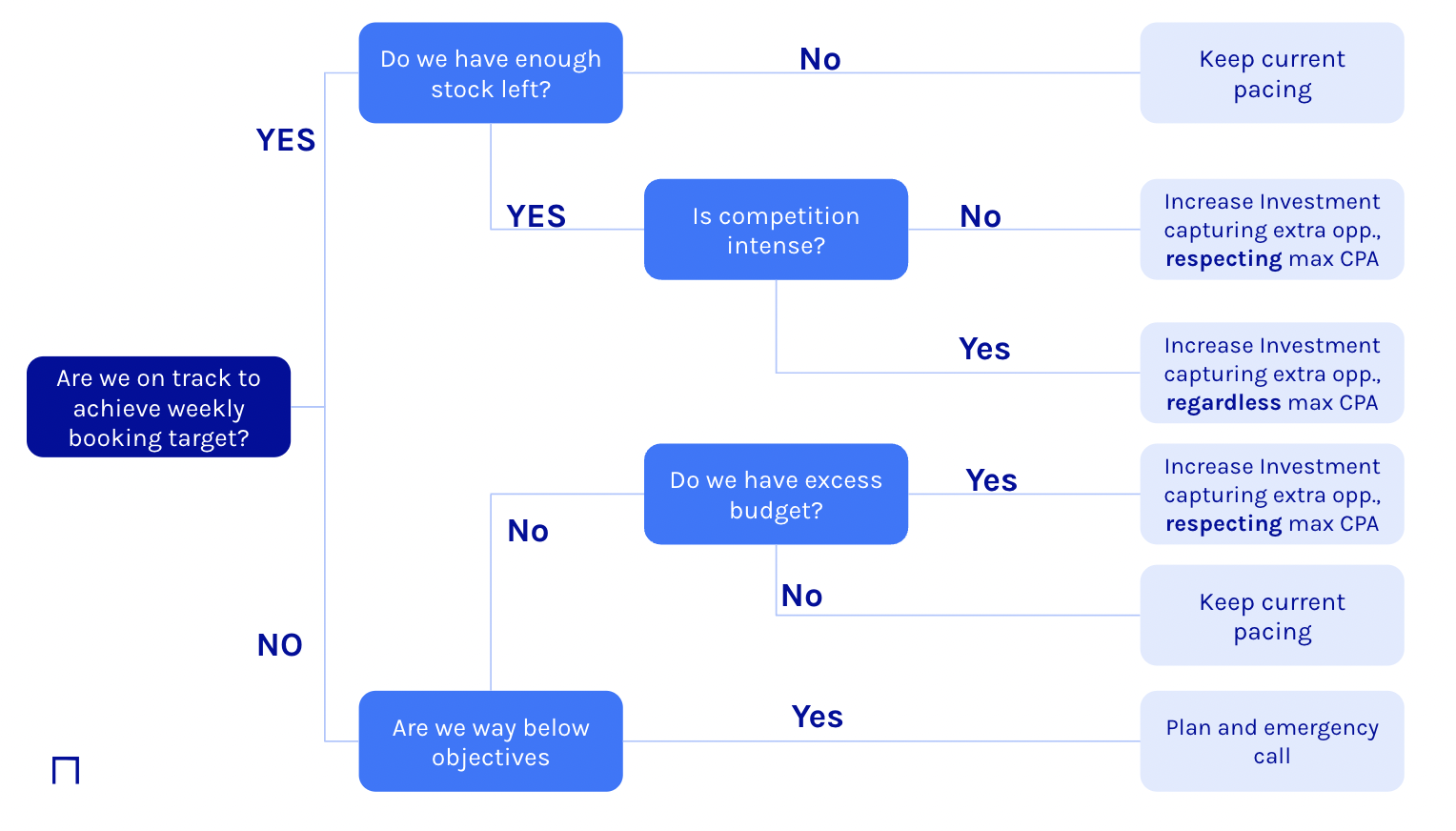 We utilise this decision tree on a daily basis to evaluate its performance and determine the appropriate course of action based on the identified scenario. The frequency of actions taken based on this decision tree ranges from once a month to as many as 5-6 times per month, depending on the circumstances. This decision tree has become a crucial element in achieving business goals. Therefore, a thorough assessment and update of the decision tree is being done every 6 months.
Reacting swiftly and accurate resulted in +21% bookings
By implementing the decision tree, Ardennes-étape succeeded to leverage their business data to the full potential. This had a direct impact on business results. The decision tree did not only facilitate daily management of digital advertising campaigns, it also improved performances significantly. By allowing for more flexibility, gathering data from all relevant data sources and defining clear and immediate actions, performances of the digital campaigns improved significantly as the bookings increased by 21%. In addition, significantly less interactions were needed to take swift actions.
Tags: